In-principle approval has been given for at least 10 longwall mines that will pass beneath Woronora Reservoir.
Longwall mines have already caused serious damage in the Woronora 'Special Area' catchment – WaterNSW has noted the detrimental impact of Peabody's longwall mines LW23-27, with 'Unexpectedly high levels of surface cracking (along the creek and at pool / rockbars) and consequent drying of a large proportion of pools.' Swamps that filter and clean our water have also shown signs of drying out – with groundwater levels 'not having recovered many years after completion of mining.' (p.B4, B5)
Over 10,700 people have signed a petition calling for this mining to be stopped.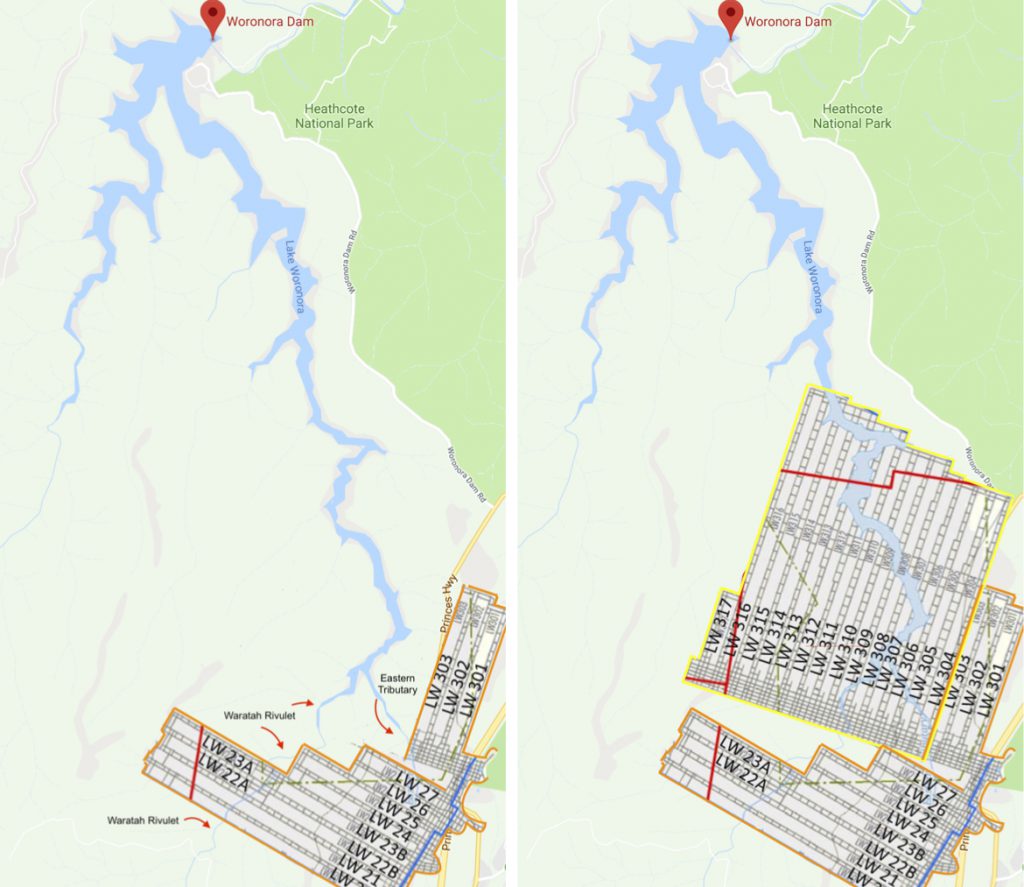 The petition was submitted to State parliament in February 2020. Under state legislation, petitions with more than 10,000 signatures are required to be debated in State parliament. The debate was set down for 26 March. Parliament was suspended that week and the debate was cancelled.
Meanwhile, in the midst of heightened public anxiety about the coronavirus, Planning Minister Rob Stokes quietly granted final approval for three of these longwall mines in the 'Special Area' catchment – a week prior to when the debate was due to take place. Two of these, LW306 and LW307, will run directly under the reservoir.
Water security is a matter that goes beyond politics – no matter what your political leanings or position on coal. Woronora is a critical public asset that is simply too important to jeopardise. So many people we've spoken to are horrified that mining is even being contemplated under a drinking water catchment, let alone that it has got to this point.
In a 2014 report the NSW Chief Scientist found Sydney alone among major cities permitted longwall coal mining under publicly owned water catchment.
Maintaining the integrity of our water supply is important and should be given public consideration. This did not happen prior to the latest approval being given. Mining was declared an 'essential industry' and continues uninterrupted, while parliament was suspended.
Update now: the debate has been rescheduled for Thursday 4 June, 4pm and can be watched live on the parliamentary website: https://www.parliament.nsw.gov.au/pages/la-webcast-page.aspx
The photo to the left here is of the Eastern Tributary of the Waratah Rivulet. It was taken in July 2019, and shows heavy iron oxidising bacteria growth and iron oxyhydroxide floc contamination. Water in this area is supposed to be pristine, and the water clean, filtered through natural streams and swamps – the water has changed to this rust colour because it drained underground through cracks caused by subsidence from longwall mining, and has come out again contaminated.
WaterNSW Submission to a recent Independent Expert Panel looking into mining in the catchment –
"An issue which particularly concerns WaterNSW is that it is anticipated that any additional increases in iron, manganese and possibly aluminum and other species dissolved from undermined catchments will impact on raw water quality delivered to Sydney Water and other customers…metals transported to reservoirs in particulate and/or dissolved forms are more likely to be precipitated and build up in the lake sediments over time." See p.24
This water all runs directly into Woronora reservoir.
____________________________
The Woronora Reservoir catchment is classified as a 'Special Area' – permission is required to enter. Fines for entering without permission can be up to $44,000. Photos you see on this page were taken on the few occasions permission was granted. People are not normally allowed into the area in case they cause damage, or pollute the water. The only people who appear to be allowed in the area work for the mining company, Peabody.
The Waratah Rivulet is a significant tributary leading to Woronora dam – the image here shows a streambed that has cracked due to mining related subsidence – compressive forces have caused "upsidence" where the creek bed bulges upwards. All surface flow has been lost.
____________________________
Cumulative impacts could have serious negative consequences for reservoir water quality
.
The Wororona 'Special Area' is covered with larger rivulets, streams and swamps. Swamps play a critical role in filtering and purifying our water. In the mine plan map here, the swamps are depicted in brown. The independent expert panel looking into mining in the catchment has noted that damage to swamps from mining can be irreversible. Their report states mining should not be allowed on the basis that remediating swamps is possible.
Subsidence from longwall coal mining can create a network of cracks and fissures, tilting rock strata, draining creeks and drying out of swampland. If the water does reemerge from subsidence cracking it can be leached through with chemical contaminants including iron, aluminium and manganese, lithium, strontium, barium, titanium, zinc and nickel. Apparently even trace amounts of zinc and nickel are toxic.
The final report by the independent Expert Panel looking into mining in this area also stated that water returning to the surface from mine workings can 'leach metals' and this 'needs increased attention in mining proposals, especially in the Special Areas where 'cumulative impacts could have serious negative consequences for reservoir water quality'. See pp.vi-vii
Water quality in the Greater Sydney catchment has already been impacted: a recent freedom of information request found sludge accumulating on the bottom of Cataract and Cordeaux dams (as a result of coal-mining activity) has resulted in elevated levels of iron that have exceeded acceptable limits more than 90 times in three years. Whether such contaminants are accumulating on the floor of the Woronora reservoir is unknown, however the Water NSW Act states a Function of WaterNSW is 'to protect and enhance the quality and quantity of water in declared catchment areas'.
There is no 'protecting' and enhancing' taking place at Woronora. According to WaterNSW mining in the Woronora Special Area catchment has resulted in 'environmental consequences [that] have caused (or are likely to cause) breaches in conditions in the relevant development consents, including performance criteria to protect watercourses and Sydney's drinking water catchment.' They also say 'that there are numerous deficiencies in the manner that analysis and modelling is currently being used to support mining applications in the catchment.' See p.3
____________________________
Pool N
The video below shows 'pool N', which was a 150m long permanent pool of water, part of the Waratah Rivulet that flows into Woronora dam. It remained full during the 2006-7 Millennium drought. This video was taken in 2014 when it drained dry due to cracks in the bedrock.
The Independent Expert Panel report clearly states that predictions by mining companies about the impact of mining on surface and groundwater has not proven reliable, and that predictions of the impact mining will have in terms of consequences for watercourses 'remains an incomplete process'. The report notes this raises the question of the reliability of estimates of how much water is being diverted from the catchment. See p.v
In addition to the danger of water being lost due to subsidence damage from current mining activity, the report also raises concerns about a 'limited understanding' of the extent to which water is entering old mine workings, and the danger of the 'permanent diversion of catchment water into mine workings.' It notes the potential for 'perpetual water loss' through entrances to mines that have not been 'properly sealed', and that water coming out from old mine entrances is likely to be contaminated and could 'require treatment in perpetuity'.
____________________________
In July 2019 The Sydney Morning Herald published an article with shocking video drone footage showing streams filled with red and soupy green discoloured water: 'Shocking': Mining damage in Sydney's catchment prompts calls for halt'. In that article, Peter Turner, mining projects science officer for the National Parks Association, confirmed that "A lack of pre-mining data, limited monitoring, and inadequate catchment and reservoir water-balance modelling make it essentially impossible to reliably determine how much water was actually being lost."
The Woronora Special Area catchment is a critical public asset, part of our water supply infrastructure. The Water NSW Act 2014 states WaterNSW has a statutory obligation 'to protect and enhance the quality and quantity of water in declared catchment areas'. The Act also requires WaterNSW to act 'in accordance with sound commercial principles', and 'to maximise the net worth of the State's investment'.
Our water supply 'Special Area' catchments were set up originally so that if one failed the others could stand in as reserves. In 1998, extreme rain and flooding filled the drought-affected Warragamba Dam in just a few days. This triggered the Cryptosporidium crisis. Woronora was not affected. In 2015 the desalination plant was damaged by a typhoon and took a few years to properly repair.
Our 'Special area' catchments are meant to be protected for a reason.
____________________________
.
.
.
The Independent Expert Panel for Mining in the Catchment
The final recommendations in the Independent Expert Panel report suggest mining underneath Woronora Reservoir be allowed to continue subject to increased monitoring. The original terms of reference for this review focused on identifying how to "strengthen the assessment of the ongoing operation of approved mines" and "undertaking further scientific research" – the terms of reference ensured the report focused on monitoring, rather than the question of whether mining should be allowed at all. This made the final recommendations a foregone conclusion.
We do not view continued mining with increased monitoring of increasing damage as a solution. Once mining induced subsidence cracking to the bedrock occurs it keeps happening. Movement in each longwall compounds already existing subsidence. Each successive tunnel will be impacted to an unknown extent by effects from previous adjacent longwalls. Impacts occur in an incremental manner across longwalls, and the final cumulative impact may take several years to be identified.
Subsidence can continue even 20 years after it first occurs – the damage is ongoing, and will get worse over time, even after the mining company has left.
Another serious concern with the final recommendations of the Independent Expert Panel report is that it mentions the possibility of 'offsets as compensation for the consequences of negative environmental impacts'. In other words, the Report appears to suggest the government could consider accepting payment for irreversible damage to Sydney's water supply as a result of longwall coal mining.
In the whole 400+ pages of the 2 volume report, there is only one innocuous picture of mining induced subsidence cracking.
.
____________________________
Much of the water testing in the Woronora 'Special Area' is done by Peabody.
.
Peabody Energy Australia is a subsidiary of Peabody Energy Corporation in the USA. The company made $16.5 billion from its Australian subsidiary over the last 5 years but paid no tax, pointing to a troubling willingness to bypass Australian laws that have a detrimental impact on its profits. The parent company also has a terrible environmental record; it came last on the list for environmental compliance / impact when Newsweek ranked 500 large global companies in 2009 and 2012.
None of this was a concern for the NSW Department of Planning when they assessed, then approved the most recent application the company made to mine underneath our reservoir.
Much of the testing in the Woronora 'Special Area' appears to done by Peabody. WaterNSW reportedly only has two water testing stations in the catchment. Meanwhile Peabody's 'Woronora Reservoir Impact Strategy Panel' (WRIS Panel) has argued against the need for any more detailed 'Woronora reservoir water balance' studies due to 'difficulties in achieving the accuracy required to detect water losses from the reservoir due to mining'. The company has claimed that the mine 'displays no evidence of a connected fracture regime to surface'; (i.e. relatively little water enters the mine workings as they are in progression), therefore 'losses of water from the Woronora Special Area due to mining impacts associated with Metropolitan Mine are negligible'.
In advice provided to the Department of Planning regarding the approval of LW305-307, WaterNSW has argued that a detailed water balance study would be one of the only ways to determine compliance with the Woronora Reservoir 'performance measure'. Their advice has been dismissed.
.
.
.
The Department of Planning together with Peabody appear to have united to circumvent further studies, discounted the advice of WaterNSW, and handed responsibility for monitoring the health of our 'Special Area' catchment to the mining company itself.
This in turn ignores and directly contradicts the advice of a 2014 report by the NSW Chief Scientist which recommended setting up a 'whole of catchment' modelling system that could assess and predict cumulative impacts.
None of the recommendations from this 2014 report have been implemented. Certainly not at Woronora.
____________________________
.
The photo on the left here is from the Department of Planning document approving LWs 305-307 – the green lines at the bottom of the image in LW305 and 306 depict 'setbacks' from the Eastern Tributary of the Waratah Rivulet – purportedly intended to avoid further damage to the Rivulet, even as the mines extend under the reservoir itself.
The photo is dated 1993, before the more recent mining induced subsidence damage took place.
.
.
.
.
The photo on the right is exactly the same area, a satellite image taken from google earth, 25 years later, in March 2018.
Woronora reservoir was 77% full when this second photo was taken.
The image suggests that streams and pools in this area are simply no longer holding water.
_______________________________
This third photo is from a WaterNSW submission to the Independent Expert Panel looking into mining in the catchment.
It was taken in October 2018.
This is the Waratah Rivulet – our drinking water – from another angle.
_______________________________
"…baseflow contributions are particularly at risk from longwall mining as groundwater levels typically reduce, sometimes by as much as 90m, following undermining and it is not certain whether long-term recoveries will ever return to pre-mining levels." p.80
WaterNSW submission to the Independent Expert Panel for Mining in the Catchment
_______________________________
.
WaterNSW Potential catchment loss mechanisms due to mining induced subsidence
_______________________________
In February 2020 Peabody applied for yet another coal exploration permit
.
.
In February 2020, in a move signalling utter contempt for community concerns, the company felt confident enough to apply for yet another exploration licence. Exploration application ELA5918, shown here in the faintest shade of teal blue, is a request for a new, additional permit to explore for coal across a further 2042 hectares of the Woronora 'Special Area' catchment under and around the left arm of the reservoir: "'Perverse': Peabody lodges new coal mining bid for Sydney's catchment".
Nic Clyde, from Lock the Gate Alliance, referred to it as "an insult to all who rely on Sydney's water supply… Perversely, lodged when the city has only just begun to recover from one of the worst droughts on record, when water supplies dropped to 42 per cent."
See: https://minview.geoscience.nsw.gov.au/
_______________________________
Members of Parliament to contact and ask to protect our water
Rob Stokes Minister for Planning, and Member for Pittwater 9999 3599 pittwater@parliament.nsw.gov.au
Clayton Barr MP, Shadow Minister for Water and Member for Cessnock (02) 4991 1466 cessnock@parliament.nsw.gov.au
Lee Evans MP Member for Heathcote 9548 0144 heathcote@parliament.nsw.gov.au
Jodi McKay MP Leader of the Opposition and Member for Strathfield 9747 1711, 9230 2310 strathfield@parliament.nsw.gov.au leader.opposition@parliament.nsw.gov.au
Mark Speakman Attorney General, and Member for Cronulla 9527 1477 cronulla@parliament.nsw.gov.au
Matt Kean Minister for the Environment, and Member for Hornsby 8574 6150 office@kean.minister.nsw.gov.au
Adam Searle MLC, Shadow Minister for Planning 9230 2160 adam.searle@parliament.nsw.gov.au
Mark Buttigieg MLC and Opposition Whip in the Legislative Council 9230 2822 mark.buttigieg@parliament.nsw.gov.au
Melinda Pavey Minister for Water, and Member for Oxley 8574 7300 oxley@parliament.nsw.gov.au
Kate Washington MP, Shadow Minister for the Environment and Member for Port Stephens (02) 4987 4455 portstephens@parliament.nsw.gov.au
Eleni Petinos MP Member for Miranda 9525 6378 miranda@parliament.nsw.gov.au
Cate Faehrmann, MLC 9230 3771 Cate.Faehrmann@parliament.nsw.gov.au
____________________________
Further Reading
____________________________
9 May, 2020 "'Scandalous': US giant approved to mine beneath Sydney drinking water reservoir 'under cover of coronavirus'", NineNews
28 April, 2020 "Cutting 'green tape' may be good politicking, but it's bad policy. Here are 5 examples of regulation failure", The Conversation
8 April, 2020 "Berejiklian Government uses COVID-19 crisis to further environmental vandalism", Independent Australia
April 4, 2020 "Beware what's happening under the cover of COVID-19" Sydney Morning Herald
April 3, 2020 "Coal mining under Woronora Dam to go ahead after community campaign fails to sway government", The Leader
31 March, 2020 "Fears for water quality after NSW allows coalmining extension under Sydney's Woronora reservoir", The Guardian
30 March, 2020 "NSW approves coal mine expansion under drinking water catchment", Renew Economy
30 March, 2020 "First dog on the Moon: Obsessively consuming every morsel of information about coronavirus? Or trying to avoid the news completely?", The Guardian
March 29, 2020 "Coal mining allowed under Sydney water reservoir for first time in 20 years", Sydney Morning Herald
February 16, 2020 "'Perverse': Peabody lodges new coal mining bid for Sydney's catchment", Sydney Morning Herald
7 February, 2020 "There's No Promised Land for Coal, in Australia or America: Peabody might calm investors if it sold its most profitable mines, but the outlook for its business is grim", Bloomberg Opinion
2 December, 2019 "Coal power becoming 'uninsurable' as firms refuse cover", The Guardian
1 December, 2019 "'Shocking' metallic sludge contaminating Sydney dams that supply drinking water" ABC News
November 11, 2019 "New coal projects in Sydney's catchment on hold after panel's reports", Sydney Morning Herald
Independent Expert Panel for Mining in the Catchment website: final reports and submissions
14 October, 2019 Report from the Independent Expert Panel for Mining in the Catchment Part 2
July 27, 2019 "'Shocking': Mining damage in Sydney's catchment prompts calls for halt", Sydney Morning Herald
March 2019 WaterNSW Second Submission to the Independent Expert Panel for Mining in the Catchment WaterNSW
February 22, 2019 "Energy Company Pushes Navajo Nation to Assume Liability for Coal Plant", Truthout
May 2018 WaterNSW Submission to the Independent Expert Panel on Mining in Sydney Catchment WaterNSW
Phillip Lorenzelli, Dr Ian Wright and Dr Peter Davies 2018, 'What happens to the stream when the coal mine closes', Proceedings of the 9th Australian Stream Management Conference. Hobart, Tasmania
21 August, 2017 "Toxic water from old mine entering Sydney's drinking catchment, research warns", ABC News
April 13, 2016 "Half a dozen ways out of rehab for coal companies", Michael West Media
4 January 2016 "The Wizards of Bridge Street: Inside the magical NSW mining approvals factory" Independent Australia
30 May 2014 "On measuring the cumulative impacts of activities which impact ground and surface water in the Sydney Water Catchment" Report by the NSW Government Chief Scientist and Engineer